Good Morning All and Happy Friday,
Sorry but ....Onlinenow.top/monica29, GO AWAY!!! I see your porn website is on my blog. Geez, what do you sick people want! I am working on getting you blocked now! Any way.....
I've got a busy weekend planned. I am putting up my Christmas trees! Yes, I know it is early but I must get a head start because I put up about six and I want to enjoy them for more than a month. So I will be starting that this weekend.
We also have Monday off for Veterans Day (thank you to everyone for your service) so I will be using that day to run some errands. There is a new consignment store that I wanted to visit so we will see how that goes. I've got to return some purchases at the mall and Von Maur's beauty week starts so I may take a peek at what they are offering.
Today's post is a beautiful home tour from one of my favorite bloggers. I follow Gal Meets Glam (Julia Engel)'s blog and website religiously. I have been such a fan of her style and home decor for about six years now.
I saw this home tour on the Southern Living Magazine website recently and just became enamored with all of the inspiration from the home. Even if you don't like everything about it there is still so much decor inspiration to pick from it.
Gorgeous curb appeal!!! I love the splash of blue on the home. See....serious home decor inspiration!
They have a beautiful wrap around porch. She and her husband always do a great job of decorating their outdoor space.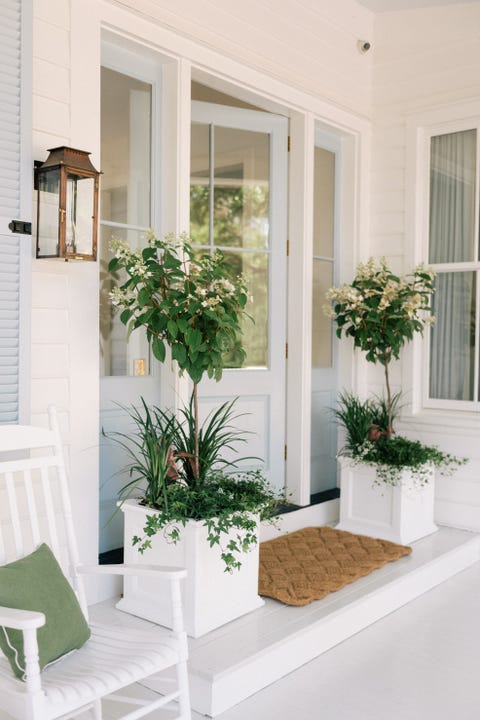 The breakfast nook area is bright and inviting and the butler's pantry area is something that most of us will kill for!
Now the kitchen is spacious, full of color, and simply stunning. But... there is a but for me. I am not a fan of the light fixtures. I am a vintage chandelier kinda girl but as I stated above, you don't have to like everything about someone else's space. You can just use it as inspiration.
These chairs are my favorite thing. They have the chinoiserie look and they are just classic!
Now, this photo is from a couple of years ago. I remember seeing this peony on her wall and thinking, "I must have it". I asked her and she said that it was made by an artist in San Francisco named Tiffanie Turner. Here is her website if you are interested.
Doesn't this look like a wonderful retreat? I only dream of having bed linens like this. I am working on it but they are quite expensive. I'll get there.
I don't want to show all of the pictures so if you wish to see the rest of the tour click on the link above to view and take it all in.
Home tours are so wonderful. It's amazing how someone else can decorate their home in a way that you would have never thought of. Enjoy your weekend!
(photos via Gal Meets Glam.com)